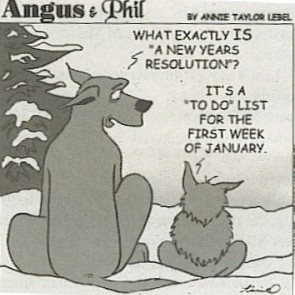 Hey! Happy New Year!!
Yep, I've been a little slack in my blog, mainly because I've been chilling out during the holidays.
Don't get me wrong – we've been pretty active too. I've been playing a little extra tennis, and we've been getting together with lots of friends for activities. But we've had a few days of sleeping in a little later, hanging out in pyjamas for half the day, and generally stepping out of the usual routine. It's been awesome. And I know I'll be back to the usual stuff, so no big deal.
So I wanted to talk about New Year's resolutions. I don't make them, but some of my friends and family do. You know: work out more, eat healthier, read more, blah blah blah.
I think they're great as a tool to improve on things you want to improve on.
Here's the thing though: A New Year's resolution has to be something you can manage. And that you'll stick with. (Past January! That's why the comic cracks me up!) You know what I mean?
So if you made one, or if you just generally want to get healthier, more active, whatever… Start with one step at a time. Then it's not that tough. If you have an off day, no biggie. Just try to keep on track the next day!
Just one little step. And stick with it.
Before you know it, that first little step has become a positive change!
See you soon!
Finn