Hey!
Great news! Sue and I just published our second book in my The F.I.T. Files series! Yeah!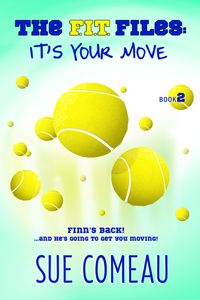 In this book, It's Your Move, we all meet a few challenges (including my pal Chris, with a bowling ball…but I'm not even going there right now)!
But we work together, keep positive, and go for it. In the end, it's pretty sweet!
We all have times when we have a challenge, or something that we're uncomfortable or nervous about doing.
If it's something that will be positive, just take a breath, gather up all your support from your family and friends, and go for it!
Just remember, perfection is overrated. Making an effort is a big deal 🙂
(That was especially true with the guys and me in the dance studio!)
Check out our adventures in The F.I.T. Files: It's Your Move
See you soon!
Finn