Hey! Welcome! I'm Finn Tilley, and this is the website for my book series with Sue Comeau!
Check out our new book! In this one, I help Charlie find an activity he loves, while we solve a 'stationary' problem at school, and try to figure out what's going on with our buddy, Xavier. Lots of action! You'll be laughing from the bowling alley to the dance studio to the tennis courts… and I'll bet you'll get moving too!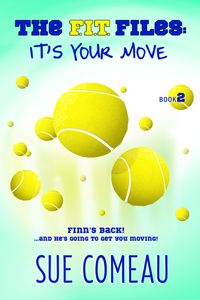 Since Sue and I did the book for older kids (around 13 and under), I wanted to have a website about fitness and health-related stuff that's for us too. It kind of makes a nice package.
Wondering why it's called The F.I.T. Files… (besides the obvious "yeah, it deals with fitness")?
The short answer is that 'F.I.T.' are my initials. But I'll tell you more about that in the book. And the truth is, we don't only talk about fitness. We talk about lots of other stuff that makes life fun and good. (Plus, I just thought it was a great name for a book series!)
Check out our first book, Balance It Out, below also. You can click Books here, or on the 'Books' tab above to see where it's available!
I'll be putting all kinds of cool stuff in My Notebook, and Sue will be checking in with lifestyle tips, links, etc… a virtual grab bag of goodies. So I hope to see you again 🙂
Finn
---
Meet Finn Tilley, a successful life coach – who just happens to be 13 years old.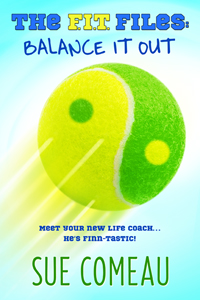 Finn gets a panicked call from his drama-loving best friend Charlie and he knows something big is up. Whenever Charlie is stressed, his voice goes up – right now he sounds like a chipmunk on Red Bull.
Charlie needs Finn's help. Charlie went to the doctor and found out his BMI is too high and he's overweight. Now his mom is threatening to take him to ICLI (I Can Lose It) meetings. Charlie is picturing himself in a room with a bunch of hungry old ladies, and he's mortified. And what the heck is BMI anyway? Can he just take some vitamins or something? Charlie needs Finn to help him sort things out.
Sure, Charlie has put on a few pounds lately – he has a scooter for his mansion, and his chef bakes oversized cookies, daily. And while Finn and the rest of their friends love being active, Charlie's new favorite activity is reclining. Still, this ICLI thing seems a little drastic.
Finn is on the case. After all, with a mom who's a granola-loving yoga teacher, a dad who's a coach, and a sister who dances all the time, health and fitness is a big deal in his house. He loves helping his friends when it comes to physical activity.
Finn's cool as he starts investigating Charlie's situation… So why does he find himself getting weighed in front of the entire high school girls' volleyball team? Falling backwards onto his butt in front of the coolest girl ever? Or getting thrown onto some shrubs by his friend Chris (yes, she's a girl) at Charlie's mansion?
Meanwhile, why has Finn's sister become so picky and grumpy? (Yikes.)
In the first of The F.I.T. Files series, Finn takes us along for the ride – introducing us to his hilarious and quirky friends and family – as he helps Charlie find some balance.